by Sarah Clement
The Fresh Eyes on Ice team is back in town after a cold but productive four day trip on the Tanana River. As Chris wrote in Part 1, this shakedown trip gave us a chance to try out our winter camping systems and to learn just how well our science tools work in cold weather (surprisingly, some do okay!). As the resident science education graduate student, I tagged along to learn more about ice science from the experts on our team and to brainstorm how outreach and education can be an integral part of these excursions post-COVID.
As we had jokingly anticipated, the warmer-than-normal January temperatures vanished just before we packed our sleds and headed towards the confluence of the Chena and Tanana Rivers. Though temperatures were forecast to be a few degrees below our temperature cut-off for the trip, we decided to give it a go anyway, knowing we'd be relatively close to town if we needed to bail. On the first afternoon, we quickly settled into camp at an established site on Sam Charley Island, though we soon discovered our Arctic Oven tents didn't work quite as well as expected! We all had a pretty chilly night. Through chattering teeth and stomping feet over breakfast the next morning, we agreed if we were too cold after a day on the river, we'd pack up and head back to Fairbanks.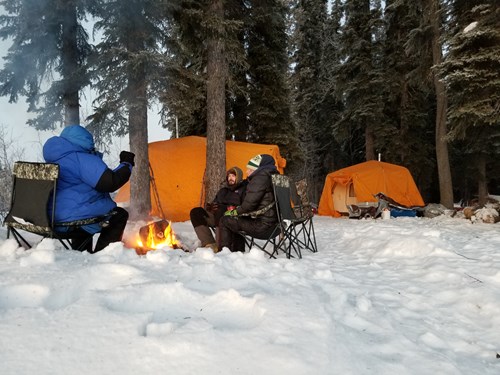 Sitting around the campfire in camp on Sam Charley Island. Credit: Chris Arp
We used our first full day on the river as a travel day, getting comfortable driving our new snowmachines and taking the opportunity to ground-truth satellite imagery of the Tanana River from December and early January. Driving down the Tanana, we stopped every few hundred meters or couple of kilometers to check out a previously identified GPS point. The goal was to make visual observations of the conditions and take pictures so Melanie, our SAR expert, could compare our observations to satellite imagery. During the first few stops, the ice looked pretty much the same to me. Chris, Allen, and Melanie commented on observations they had made between stops, like "Did you see that steam off to the left a ways back?" or "How about that overflow?" I had no idea what they were talking about - I was entirely focused on steering the snowmachine correctly and trying to keep my goggles from fogging up. As the day progressed and I grew more confident on the snowmachine, I started noticing changes in the ice before others pointed them out. We traveled down the Tanana to just about 10 miles shy of Nenana before heading back to camp at the Sam Charley Slough, pleased with what we had been able to accomplish.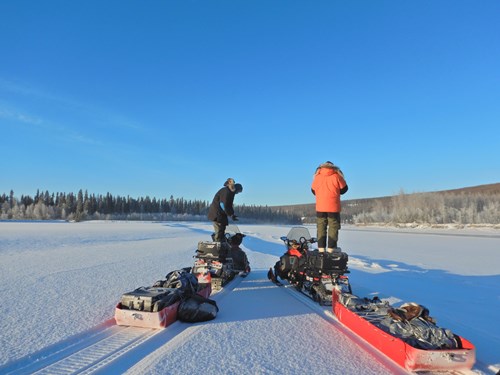 Observing ice conditions on the Tanana. Credit: Sarah Clement
Stoked after a fun day on the river, and optimistic that the tents would be warmer on the second night (they weren't), we decided to stay in the field rather than return to Fairbanks. The next day, which promised to be about 10 degrees warmer, we stuck closer to camp to try out our ice tools. Though Chris had packed (what I thought was) every science tool imaginable, we were limited to the tools that could actually operate in temperatures well below 0. Fortunately, our hand drills worked, so taking ice thickness measurements was a breeze! Following the Fresh Eyes on Ice measurement protocols, Melanie and I took three different groups of measurements within a few mile radius of camp. Meanwhile, Allen and Chris tried out other tools, including our new tripod. This giant piece of equipment is normally used to lower workers in and out of manhole covers, but we decided to try it out on hoisting ice blocks from the river. Allen used the chainsaw to expertly carve out a block of ice, and we used the hoist to winch the block out using two ice screws. We plan to use this tool in the future to examine layers in the ice; this can help us reconstruct the story of winter conditions on the river! It was cloudy when we returned to camp in the afternoon, but the thin layer didn't stop the full, bright Wolf Moon from shining down on our campfire that evening.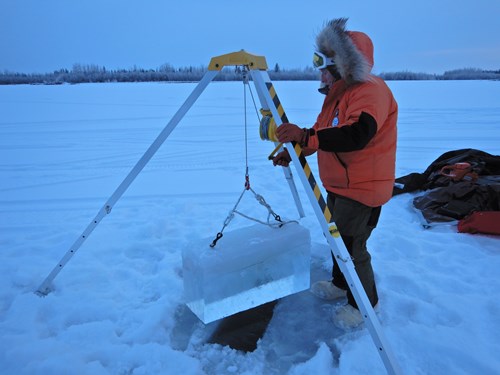 Hoisting the freshly-cut ice block out of the river for observation. Credit: Sarah Clement
On our final day, we made more ground-truthing observations on the stretch of the Tanana between Sam Charley Island and Fairbanks. At one spot where the river had been open just a month previously, the ice was 80 centimeters thick! We rode back into town feeling tired, cold, and successful. Overall, we felt the trip exactly met our goals and expectations, and I learned a lot more about ice science! After a month in town, we're all looking forward to heading down the Tanana again just after the Snow Moon.